FireFan Sports App – The world's first live sports app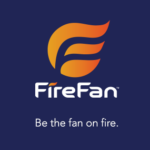 Do you call plays before they happen? Jump up and scream at a fumble? End zone dance in your living room? With your passion, we have your game!
With FireFan, you predict the scores, call the plays, decide the action, the penalties and more – all in real time as you are watching the game! Don't just watch. Be part of the action!
Download and play for free now at www.firefan.com and use the code: Awe
Amazon Smile

When you make your purchase on Amazon, enter through the Amazon Smile page and they will share a bit of their profit with us.
Share this link: http://smile.amazon.com/ch/20-1103303 and ask your donors, volunteers, employees, and friends to bookmark this link so all their eligible shopping will benefit Our Family Orphan Communities, Inc..